Traditionally, embroidery design for Kurtis was only used to be done by hands on the fabric. With the modernization and technology advancement, embroidery has become an easy task using a machine to create complex designs in just a few minutes.
Machine embroidery is popular as it is not as expensive as handwork is, yet handmade embroidery designs for Kurtis is also quite in demand due to its uniqueness and craftsmanship.
Today there are many types of embroidery work that you see on Kurtis. They are as rich as our Indian culture is, we are just blessed with varied cultures, religions, and traditions.
Where thread embroidery is done on almost all kind of fabrics like cotton, silk etc, zardosi, resham, work using stones, sequins, pearls etc are majorly done on silk fabric and its variants.
Most lehengas, sarees, and suits you see are enriched with heavy zari work and the combination of thread work using crystals, sequins etc creating mesmerizing designs.
Different Embroidery Designs for Kurtis
Let's quickly have a look at different types of embroidery and designs created using these.
1.Zardozi
Zardosi work originates from the land of Persia, is a type of metal embroidery design for Kurtis. In this, a golden or silver yarn is created using cotton or silk thread being wrapped in thin gold or silver thread. Today instead of pure gold or silver thread, zari is produced by using other metal(copper or alloys) being wrapped on cotton or polyester thread at the core.
You will find this work on almost all kind of fabrics, mostly on silk, velvet, chiffon, and georgette.
Indian traditional attire undeniably exudes the grace and beautiful charm, there are some brides out there who think different and want different and there is one thing common among all, it's the dream to look whimsical on her wedding day and why not? It's her wedding which is one in a lifetime experience.
So all you rebel brides who want to mark their unique sense of style on your special day, we got the list of some really quirky and quaint outfit ideas for you.
2.Kashmiri Embroidery
Kashmir reminds us of the thick lush green forest and valleys and the Kashmiri embroidery design for Kurtis source its inspiration from nature around. Kashmiri embroidery also known as Kashidakari employs the use of multicolor threadwork designs inspired by the flora around.
Kashmiri embroidery design is for best for long Kurtis
You can make beautiful necklines of simple cotton kurta or also silk, silk, chiffon or georgette fabric.
3.Kantha work
This delicate handwork is from Kolkata. Originally this craft used to practice by the rural woman on the cotton sarees.
4.Phulkari
Phulkari, as the name, suggests it's a flower work. This beautiful embroidery work for Kurtis hails from Punjab, traditionally used to be done on handspun khadi cloth, covering it fully without leaving a gap.

5.Gota Patti
Gota Patti is a beautiful hand work using the applique technique to create elaborate pattern originated in Rajasthan.
After trapping the sarees and lehengas now Gota Embroidery work is beautifully done over Kurtis and let the girls also enjoying its charm.
Gota Patti work can be done on any fabric like silk, cotton, velvet, chiffon or georgette.
6.Mirror/ Shisha work
Once again Mirror work embroidery has knocked the door of Indian Women wardrobe. The mirror is currently highly prevalent and popular among the women
. Rajasthan and Gujarat both states shows the use of this beautiful craftsmanship.
7.Cutwork
The most beautiful embroidery till now which stole the heart of Indian Women is Embroidery with cutwork. Originally from Italy, this technique involves cutting the part of the cotton fabric leaving a pattern behind. Today laser cut work is created for more precise and intricate work.
This work can be used both on the borders as well as on the neckline. The cut over the fabric is beautifully decorated with embroidery and hence gives an awe-inspiring look.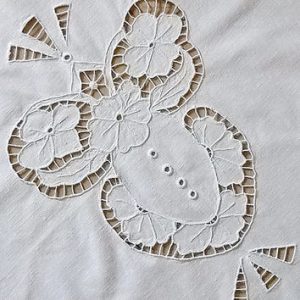 8.Chikankari Work
It is believed that this embroidery design for Kurtis and Salwars is being created by Nur Jahan, the wife of Mughal emperor Jahangir.

9.Kutch Embroidery
Kutch embroidery design for Kurtis is known for the use of multicolor thread to create intricate patterns along with mirror work.

So as you just saw that we have ample of choices to create beautiful Kurtis and neck designs. These embroideries can liven up any Kurti irrespective of its fabric. Use cotton Kurti for a subtle look and for more extravaganza go for luxe fabric like silk or velvet.
Now you can experiment and design your unique embroidery design for Kurtis.